A reminder that Wednesday was a rest day, so after Tuesdays first day of four quarter championship matches - today saw the 2nd batch of four quarter games. The report below again provided by Ben Drew AFL South Pacific Development Manager.
Wednesday was a rest day and at 8:30am teams were sent to the Damadoor Aquatic centre for recovery session with Michael Hyndman from AFLQLD, the teams were then dropped off to Albert Park and taken through Social Media & Respect & Responsibility workshops. From 1pm Andrew Hughes from the AFL gathered all the coaches and took them through a coaching masterclass session.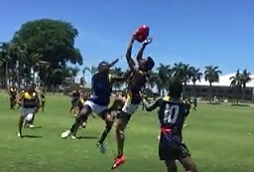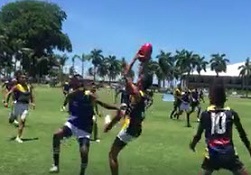 A solid mark for Nauru.