Friday, April 08 2011 @ 07:25 am ACST
Contributed by: Brett Northey
Views: 2,275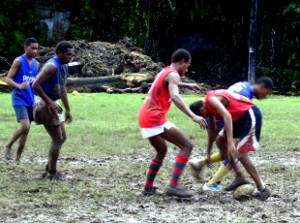 AFL Fiji continues to make great strides, with AusAID development officer Glen Butler reporting a growing 9-a-side competition in Fiji which will be used as a basis for their International Cup side if they do indeed make the final commitment to attend in 2011.
At last count the 9s competition had four teams playing each week on fields such as the Saint Marcellin Primary School grounds in Vatuwaqa. Butler is hoping to expand to more teams to grow their player base. A lot of players have a Rugby background. As Butler explains, "The players' knowledge of the game (is improving). The boys (and girls) are picking up the skills very quickly. It will just be a matter of more match practice to better understand rules and intricacies of AFL, and of course getting away from the rugby-passes, encouraging knock-on's and off-sides".

"The average age is 17-20, the core group of players are from the Fiji Power Team that competed in Tonga last year for the Oceania Cup. Due to the school clinics and through word-of-mouth, many of the new players now playing are from high schools around Suva. Planning to now target some of the Universities around Fiji as well to attract more players in the 20-25 age bracket".