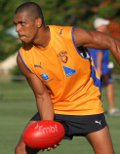 It's that time of the year, the sides that have dropped out of contention begin the early announcement of list changes. Unfortunately for PNG's Donald Barry, he is amongst a handful of Brisbane Lions who are being 'moved on'.
The AFL website reports that senior listed players Matt Austin and Xavier Clarke, and rookie listed players Broc McCauley, Bart McCulloch and Donald Barry have all been shown the door.
Barry played 15 games in season 2011 for the Brisbane Lions in the NEAFL. Alas, the Lions finished last in the Northern Conference. His 2010 season was cut short by injury.
A particular disappointment is that Barry missed PNG's IC11 campaign to continue playing with Brisbane, only to be de-listed a few weeks later.
Broc McCauley appears a surprise ommission, standing 202 cm and having managed 3 games earlier in the season where he seemingly impressed a few onlookers, although at 24 years of age, he isn't a 'young' rookie.