Tuesday, May 09 2017 @ 09:19 pm ACST
Contributed by: Troy Thompson
Views: 1,085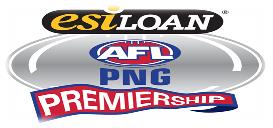 Round three of the Port Moresby footy season got underway on the weekend. Concept Koboni secured top spot on the ladder with a 61 point win despite kicking twice as many behinds as goals. The other team on three wins out of three is the Cats. They had a narrow 2 point win over West Eagles.
The Oilmin Kokofas were the other winners on the weekend with a 44 point win over the Central Bombers. The round will be completed this coming weekend with the Lamana Dockers a chance to also go 3-0 when they come up against the Defence Hawks.
University Tigers were unable to field a team in Round 1 due to lack of players and have subsequently withdrawn from the 2017 season. Hopes are that they will return in 2018. Taurama Suns will also take no further part in this season after playing just the first round of the season, so the competiion is back to an even eight teams for the rest of 2017.
Below is a full wrap of the season so far.