Thursday, November 15 2012 @ 06:30 am ACDT
Contributed by: Cam Homes
Views: 1,988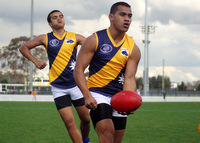 Fiji v Nauru 3-Test Series Impact On WFN World Rankings
With the second match of the 3-Test Series Fiji will become the 20th Fully Ranked Nation on WFN World Rankings.
WFN World Ranking system 'predicts' that the Higher Ranked nation in any match will win more often than not and the only previous meeting between emerging Fiji and Nauru was in the Seeding Rounds at IC11, with Nauru taking the honours in that match, 6-6 (42) to 2-3 (15).
Currently Nauru is ranked 6th with 46.15 Rating Points and Fiji is the highest ranked nation among the Provisional Nations with 45.21 Rating Points (courtesy of their four wins in the second Division of IC11).