Friday, April 26 2013 @ 05:09 am ACST
Contributed by: Rod Shaw
Views: 1,533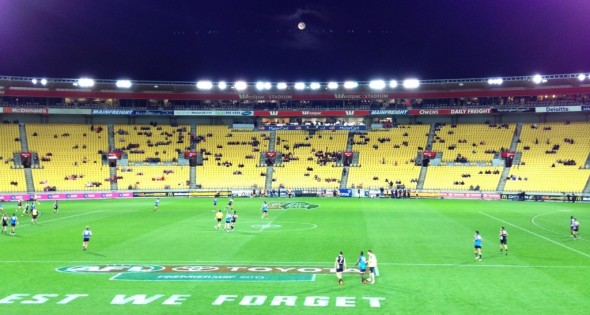 The AFL Anzac Day clash was not all about the Swans and the Saints. A crowd which grew from around 100 to 2000 spectators saw a very good game of running football played between the NZ Hawks and the South Pacific Academy U18's.
Predictably the Hawks won, with an average age of 22 against a younger and far less experienced team. Many of the Hawks had been part of the game against the AIS in January so had experience of the venue and experience playing together.
With nine of the younger Hawks part of the South Pacific team, it gave a chance for a further group of players to represent their country for the first time. NZ coaching team member Justin Davies said that "In the end this allows another group of players to get used to our systems and practices and then return to their home areas and implement these there".