Saturday, April 27 2013 @ 03:11 am ACST
Contributed by: Rod Shaw
Views: 1,978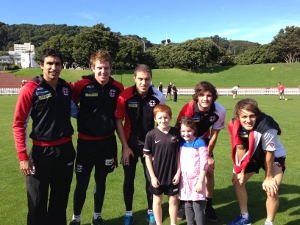 Friday 26th April saw a united effort from the AFL, AFL NZ and the St Kilda Saints in a 4 hour promotion at Wellington's prestigious Basin Reserve.
Well over 1,000 participants attended the event, which had a "Meet the Saints" component that drew a number of their Melbourne based fans. For footy in NZ, it was more about allowing for direct action to follow up the previous night's game to increase participation and interest.
AFLNZ Board Chairman Geoff Dickson sees the game as a great leverage point. "Well, the game is over and we are the ones who really have to care about, and develop, footy now," said Dickson.
He continued, "What the game may enable our organisation to do is to get into more schools quicker and perhaps to attract more of the elite players to the game, whether from the Rugby First XV, League First XIII or Soccer First XI."