Monday, July 29 2013 @ 09:19 am ACST
Contributed by: Rod Shaw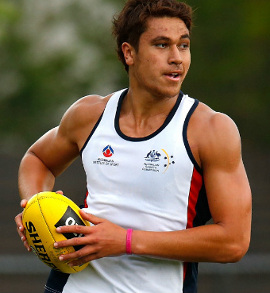 New Zealand's Shem Tatupu, who will become an international rookie at Hawthorn in 2014 (current scholarship listed), has recently been in Melbourne playing for the Oakleigh Chargers in the elite TAC Cup under 18s competition.
He kicked 1.1 in the Chargers' win over the Northern Knights during July, with his marking a feature. Earlier in the year he kicked two goals each in games against Western Jets and Geelong Falcons. His marking again in both games was a highlight.
At this stage, he appears to be giving away a number of frees but as his game awareness and body positioning improves this is likely to alter. Or maybe, as he is Hawthorn listed, he might follow Buddy Franklin's lead and still remain in the negative for frees for and against but become a very dominant footballer! Time will tell.
For more, see the article International Projects on the AFL website, or visit SportingPulse to see Shem's player stats or the match stats from his appearance with the Chargers.