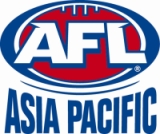 This week the 5th AFL Youth Oceania Cup will take place. Previous winners since the inaugural event in 2009 have been Tonga, PNG, New Zealand and last year Fiji. The pathway has changed somewhat with last years the first tournament without either of New Zealand or PNG involved in this phase. Next year the Oceania side will again take on PNG and NZ in the South Pacific Cup.
Below is a media release from the AFL
Fiji will host the 2013 Youth AFL Oceania Cup from December 10 to 14.