The AFL Vanuatu 2014 Grand Final was run and won on Saturday by perhaps the underdog in Mele Eagles who overcame the Erakor Golden Star Tigers by at the end a comfortable 33 point margin.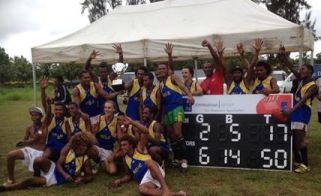 Ryan Bonga who has represented Vanuatu and the South Pacific in Australia – took out the award for best on ground.
The final score – as the brand new scoreboard tells the story – was Mele 6.14.50 to Erakor 2.5.17.
The Olinda Ferny Creek Football/Netball club visit is a major undertaking in itself and sets a high standard for other clubs to aspire to - read more.....