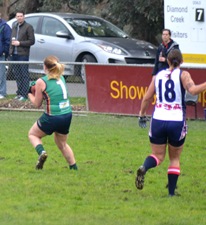 While much of the International Cup coverage here in the States has focused on the Freedom and Revolution - and rightfully so - the USA Liberty women's side has been heavily involved as well, embarking on their third Australia tour.
History of the USA Liberty
In 2009, the Liberty were born as a women's developmental squad in association with the USA Freedom. That year, the Liberty showed their skills against several different Aussie women's teams in several different cities, from Melbourne to Cairns. Following the success of this inaugural tour, the Liberty returned in 2011 to go up against the Canada Northern Lights in the 49th Parallel Cup.
In 2014, the Liberty joined the Freedom for the IC, returning the Melbourne and competing against several local sides. This was a very valuable experience for the players involved, many of whom use their experiences as a springboard for other representative spots, including on the Freedom Side for the IC and the 49th Parallel Cup. The team is currently coached by former Freedom star Judith Stein.