Thursday, April 07 2016 @ 10:58 PM ACST
Contributed by: Harley Vague
Views: 518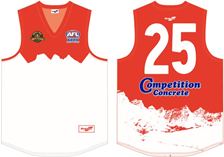 Tuesday night at 6pm saw the first hit out in 2016 for the fledgling football team in Banff. Looking for motor vehicles I thought something was amiss but soon realised that players were arriving by bicycle. The field was in good condition if a little spongy and there was no question this recreation ground has one of best back-drops you'll ever see.
Nick Mamerow led the session with five others with an icy wind encouraging much activity. What's the synopsis for the future of this team?
It was a small turn-out on a cold windy Tuesday night. A fine week-end day should bring out a lot more of those numerous Banff Facebook members. The team is youthful, athletic and skilled because it is mostly Australian. This means they will be competitive in the Calgary league but it does present a problem for the long-term. Since most players are Australians a lot are associated with the service industry on two year visas. The Banff team are aware of this and are trying hard to attract locals but even locals tend to be newcomers here.