Saturday, October 13 2018 @ 04:41 pm ACDT
Contributed by: Wesley Hull
Views: 1,425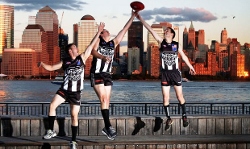 Sam Nichols reports on the Vice Media website about the growth of the game in North America – specifically the New York Magpies as a microcosm of the challenges facing the growth of the game as a whole. As the USAFL Nationals kick off in Racine, Wisconsin this weekend, this excellent story marks a good time to reflect on the journey of one club as an example of the journeys of others.
With just under 2000 registered players and 42 clubs, Australian Rules has taken a foothold in America without fans or money. 
At a public park in Brooklyn, parallel to the East River, the New York Magpies—the city's only Aussie Rules team—gear up to train, just like they do every Monday evening. 
"There's usually more people at training," Shane Lowry, a longtime player and recently appointed coach, tells me. "We had a big weekend of footy in Philly, so I reckon a lot of people are tired."