Tuesday, January 09 2018 @ 10:30 am ACDT
Contributed by: Troy Thompson
Views: 1,473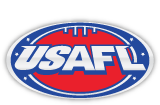 In a big few weeks for the USAFL currently in the offseason, there has been change at the top and parting of ways between tje league and the Tampa Bay ARFC.
Steve Grandfield who was elected USAFL President just this past October has resigned the position "due to professional opportunities outside of football".  Following a highly successful National Championships in San Diego and riding a wave of optimism, the league is looking for some stability at the top after previous president Denis Ryan resigned for personal reasons and the position then being filled leading to this year's election by VP East, Mike Sheppard.
Per the USAFL constitution, if the President role is vacated, the longest serving Vice President fills the role until the next AGM. Sebestian Aguiari who has been the Vice President of the West Region since 2015 with the agreement of the USAFL board will now serve as USAFL President until the next AGM in October.
The USAFL also released the following statement on the group calling themselves Major League Footy based around the Tampa Bay ARFC/ St Petersburg Swans "We are aware of some social media activity regarding Major League Footy (MLF) recently and we want to make sure it is very clear that the USAFL is in no way affiliated with MLF or any of its operations. MLF is a For-Profit organization and its business model is in conflict with the USAFL's Non-Profit status. Subsequently, be advised that the Tampa Bay ARFC / St Petersburg Swans are no longer a USAFL member club."