Friday, August 24 2018 @ 02:18 pm ACST
Contributed by: Joe Woodyard
Views: 1,186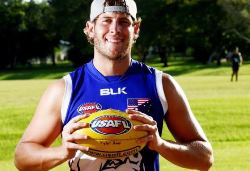 Tyler Ames was a standout player with the Denver Bulldogs of the USAFL. He then became part of an exchange program with the USAFL and is in his second season with the Montrose Demons. Recently we had the chance to catch up with Tyler.
Image Source: ntnews.com.au
Tell us about your first season (2017) at Montrose. Was it everything you hoped it'd be? Did you feel like you got better each week?
My first season was an amazing experience. It took me a fair amount of time to settle into the standard of the league and really learn where I needed to be positioned on the field. For most of the initial games, I really struggled getting around the ball and even started many games from the bench. I'm sure I was much like watching little kids play chasing the ball around the ground without getting much of the ball. Fortunately as the season progressed I really started to find my form a bit. I was able to get around the ball and impact plays with my size and physicality and was even able to snag around 6 goals for the year most of which came in the back half.