Tuesday, March 20 2018 @ 08:45 pm ACDT
Contributed by: Wesley Hull
Views: 925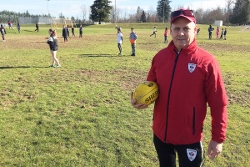 Journalist Tom Zillich from the Surrey Now – Leader newspaper in Vancouver, British Columbia has written a wonderful little story about the work of Mike McFarlane and his great team at the North Delta juniors in Canada. His achievements to grow junior footy in a part of the world where the game is a long way from the most popular is nothing short of amazing. 
Mike McFarlane would love to play the game known as "footy," but he says he's "way too old. 
"Head tells me I can, body says no," says the man who helps run the North Delta Junior Australian Football League, or NDJAFL.
Instead, McFarlane is keen to get kids sign up to play the game, which has been played in Canada since 1989 and in B.C. since 2001. The NDJAFL was formed in 2003 and has since grown from 28 young players to approximately 140.