Wednesday, December 30 2015 @ 11:14 pm ACDT
Contributed by: Wesley Hull
Views: 819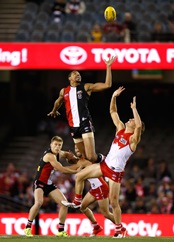 The following article by Russell Jackson at The Guardian explores the journey and AFL career to date of St Kilda's American import, Jason Holmes. On the back of his best season to date, Holmes is now in pre-season for the Saints' 2016 campaign.
Up close the modern AFL footballer is a far different physical specimen than his predecessors of the last few decades, far more sinewy and slight. On account of his finely-calibrated diet and training regime and the relentless pursuit of success, he's closer in shape to a middle distance runner than a wide receiver, as was once the case.
This is a good thing, in many respects. The AFL footballer is now faster, stronger and more physically resourceful than ever and generally more skilled too, concepts not lost on St Kilda ruckman Jason Holmes when he emerged from almost total obscurity in 2015 to become the first born and bred American to play in the AFL. It was a truly remarkable achievement for a college basketballer who'd never properly watched a full game, let alone played in one, before the Saints secured him as an international rookie.