Thursday, April 28 2016 @ 11:12 pm ACST
Contributed by: Troy Thompson
Views: 873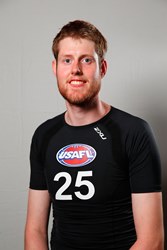 The 2016 US Combine in LA has wrapped up. The AFL will now bring a number of athletes down to Australia in July (likely 3) to prepare for the National Draft Combine, although the possibility exists that they could bring one or more earlier at the request of AFL clubs as they did with Mason Cox in 2014.
The final day of the Combine saw the athletes in a competitive, improvised game with tackling. Woody Quinn, a gridiron player from the University of Tennessee stood out here against the basketballers. Also impressing was the 7ft Frenchman Stan Heili who threw himself wholeheartedly into the competitive work. Others that impressed were Shane Henry and Omari Gudul.
We spoke to Gil Griffin, author of the forthcoming book "Jumping at the Chance: From NBA Hopefuls to AFL Prospects — The Players of the American Experiment" who he thought would be offered the chance to come to Melbourne.
Photo Courtesy AFL Photos