Thursday, June 30 2016 @ 11:09 pm ACST
Contributed by: Troy Thompson
Views: 1,538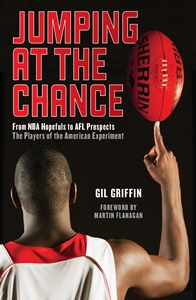 Footy Book Review
:
JUMPING AT THE CHANCE
From NBA Hopefuls to AFL Prospects— The Players of the American Experiment
By Gil Griffin, with foreword by Martin Flanagan
ISBN: 978-1-86395-851-6 • RRP $29.99
Published by Nero Books – Available in Australian bookstores now • 288 pp Also available in ebook
If you read reviews you will often see a review that stands out from the others. It probably goes against the trend of the other reviews. And that is because it often comes down to personal bias held by the reviewer which will not be swayed regardless of the quality of the content. It should be stated up front of course.