Thursday, May 16 2013 @ 06:26 AM CST
Contributed by: Tobietta Rhyman
Views: 334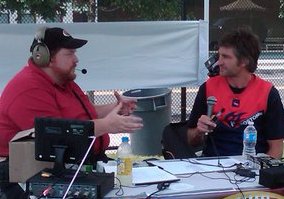 In celebration of 4 years of Stateside Footy TV, the USAFL have released an article on their website commemorating the work put in by the show's legendary commentator and producer, Bill Robert.

SSFTV started filming USAFL games in July 2010 and aired their first episode a month later in August. The 4th season of the show is due to be aired from next month. To date, 40 episodes have been filmed and the show has been aired on 81 public access channels across 21 states, and has been viewed online by over 20,000 fans.

For a quick fix of "Australian made, American played", take a look at the show's flashy new USAFL promotion video which will feature during breaks in the 2013 show.

For more information on Bill Robert's contributions to the game in the USA, please read the original article written by Boston Demon and USAFL VP Mike Sheppard.