Wednesday, November 26 2008 @ 02:34 pm ACDT
Contributed by: Graeme Carey
Views: 4,187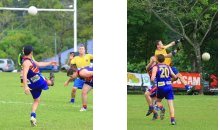 'Twas a grand day for the Warriors, but a sad one for the Irish as the Malaysian Warriors extracted some retribution for the Australian AFL failure in the recent International Rules series by comfortably defeating the Malaysia GAA Orang Eire in the first International Rules contest held in Malaysia at the Alice Smith School on November 22nd.
Playing for the Finnegan's Cup, the trophy donated by the well known Irish hostelry in Kuala Lumpur, a generous sponsor of both teams, the Warriors triumphed 109-61 in what was a highly entertaining game, played in great spirit before an enthusiastic crowd.
It was interesting to note that both sides had little difficulty adapting to the rules, and specifically the Warriors managed to handle the spheroid ball particularly well. This is probably due to the fact that unlike Australian-based AFL players many of the competitors on both sides have played numerous codes, the Australian game, the Gaelic game, soccer and the various rugby codes and hence can easily adapt. The simple fact that the Warriors were able score 6 unders and 19 overs is testimony to their accuracy in dispatching the round ball.