Friday, November 14 2008 @ 07:15 am ACDT
Contributed by: Graeme Carey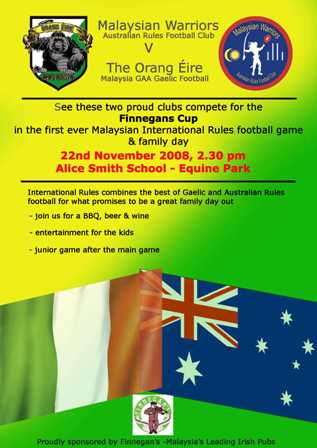 The inaugural Finnegan's Cup match, the first International Rules game to be played in Malaysia will take place between the Malaysian Warriors Australian Football Club and the Malaysian Orang Eire, the Malaysian Gaelic Athletic Association on November 22nd at 2.30pm at Alice Smith School in Kuala Lumpur.
This should be a real fun day, both teams know each other well with numerous of the Irish lads having played Australian Football with the Warriors and vice versa, some Warriors having played the Gaelic game with the Orang Eire.
Wihilst there is bound to be plenty of banter and craic, with national pride at stake, one can be assured no quarter will be asked or given.
To the winner, be the spoils
A full report will appear on
www.worldfootynews.com
in due course.
Details of the game can be found on
www.warriorsmalaysia.com