Friday, May 11 2012 @ 02:00 pm ACST
Contributed by: Troy Thompson
Views: 1,723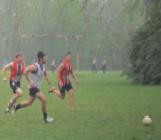 Our thanks to Columbus Jackaroos VP Kyle Jamison for this report.
Columbus, OH The Aussie Rules and Gaelic clubs of Columbus, the Jackaroos and Naghten Street, respectively, faced off at Whetstone Park the morning of Saturday, May 5, for a rematch of last fall's Ohio International Rules Football Challenge.
This was the first of a series of International Rules matches between the two clubs this year, which will climax with a curtain-raiser game for the 49th Parallel Cup, the annual Aussie Rules match-up between men's, women's, and U23 all-stars from Canada and the USA, on August 4 in Dublin, OH.