Sunday, January 13 2013 @ 09:35 pm ACDT
Contributed by: Brett Northey
Views: 919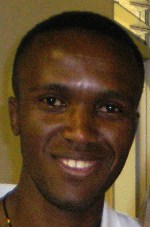 Back in 2009 we quoted AFL South Africa data showing 17,000 participants in Australian football in that country. But at the time the body had just undergone major expansion to cover four provinces and was switching instead to a consolidation mode to ensure the program was sustainable. Although completely understandable it was still probably not what international footy fans wanted to hear, always keen to see numbers growing rapidly.
It seems that 2012 was a period of expansion again with numbers up to 20,000. And AFL South Africa National Participation Manager July Machethe (pictured) has told worldfootynews.com that the aim by 2016 is 30,000 participants. Note that this includes the all-important umpires and school based mass participation programs. Machethe has provided a breakdown of the 2012 numbers into different categories, as shown below.
Another area of interest is tracking senior footy and club development. In terms of developing an adult footprint and really entrenching the game then long term that will be key. We also saw back in 2009 how quickly players developed when exposed to regular football in Western Cape when a six team league was run and the province suddenly lept to national champion status. Machethe comments on progress so far to establish more opportunities like that.
Further news is that Australian Anthony "Joel" Kelly, AFL South Africa's National Operations Manager for the last 5 years, has moved on with a replacement expected to be announced this month and quite likely to be a South Africa.