Tuesday, June 23 2015 @ 09:01 am ACST
Contributed by: Wesley Hull
Views: 1,528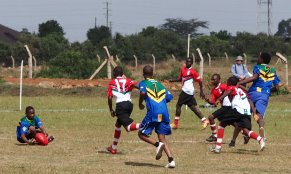 Last year an historic football match took place in Kenya, with a team representing the host nation to play a visiting team from neighbouring Tanzania. The story from that initial match was published on World Footy News as Buffalo soldiers: Kenyans beat Tanzanians in historic match and followed the incredible work of Tom Purcell  who after a huge effort brought together two East African nations to play an international Australian Rules football match in suburban Nairobi.
Now it is the turn of the Tanzanian team to host their own piece of history with an Australian Rules football match on the home soil. In a first for the game, Tanzania will become an Australian Rules football nation as our game spreads its tentacles farther and wider.
The following story by Conor Walsh for the AFL's  own website (www.afl.com ) looks at the upcoming match and further details the work of Tom Purcell and the work of the Zimele program.