Tuesday, June 09 2015 @ 12:45 PM ACST
Contributed by: Wesley Hull
Views: 1,135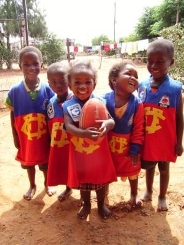 I just cannot shake the dream that lives somewhere in the back of my mind. It is an African city – maybe Johannesburg, maybe Nairobi, there is nothing specific. All I can visualise is grand stands full of cheering people – all African fans from whichever country the dream is set in, cheering wildly at a football match. We have all seen the image many times before, with the soccer teams pin-balling the play from one end to the other.
But the combatants here are not playing soccer. In this dream, hazy at times but very exciting, the half back flanker has just rebounded the ball out of the defensive fifty, hit the wingman lace-out on the chest with a daisy-cutter. The wingman has wheeled around and booted the ball to the goal square where the powerhouse, muscle-ridden full forward has taken a hangar over the pack and duly gone back and slotted the goal.
(Photo: Courtesy AFL Footywild)
In this dream the African fans are cheering the African players – at an Australian Rules match somewhere in Africa.