Sunday, April 09 2017 @ 10:04 pm ACST
Contributed by: Wesley Hull
Views: 1,505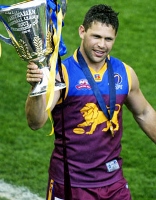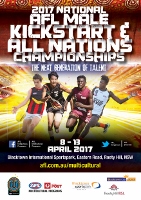 Chris Johnson certainly experienced the highs and lows of football as a player. Drafted by the Fitzroy Lions in 1993, he went on to play for the club until their demise in 1996 – experiencing some of the leanest times of any VFL/AFL club. His move to the Brisbane Bears at the end of the 1996 season coincided with the rise of a new entity – the Brisbane Lions.
He went on to become a celebrated and decorated legend of the club, playing in three premierships, being an All-Australian selection as well as a member of the Indigenous Team Of The Century. He briefly co-captained the Brisbane Lions and in 2005 was co-captain with Andrew McLeod in the Australian International Rules team.
With a resume as hard-earned and impressive as that it seems only natural that his experience and philosophies be passed on to new generations of indigenous and multicultural players. At the 2017 National AFL Male Kickstart & All Nations Championships in Blacktown, that is exactly what he is doing.