Monday, July 10 2017 @ 01:33 pm ACST
Contributed by: Wesley Hull
Views: 1,372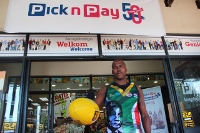 Journalist Wouter Pienaar has reported recently in the Potchefstroom Herald about the exploits of South African footballer, Godfrey Molohlanyi, and his journey towards the 2017 International Cup in Melbourne.
Finding an Aussie Rules Football player in Potchefstroom is almost like finding a needle in a haystack. And, if that player is also representing South Africa in the Australian Football International Cup then you know you have discovered something unique. 
Godfrey Molohlanyi is a South African Aussie Rules Football player from Ventersdorp. He is currently employed at Pick n Pay Vanderhoff Park in Potch where he works as a merchandiser by day.  
Godfrey Molohlanyi packs merchandise at Pick n Pay Vanderhoff Park by day and, after hours, he plays Aussie Rules Football for South Africa.