Friday, August 31 2018 @ 09:49 pm ACST
Contributed by: Wesley Hull
Views: 1,646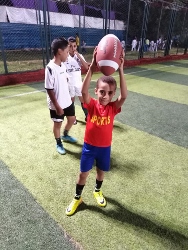 Last week, World Footy News reported on the development of the game in Egypt through the work of Professor Mohammed Hashem and hundreds of enthusiastic kids embracing his Auskick In Egypt program (see:
Spirit Of Ancient Egypt
). Since then, things have moved quickly in Egypt.
As this story is being written Professor Hashem (Mo Hash) is in the far south-western Egyptian location of New Valley within the greater New Valley Governorate. He is there running Auskick-style clinics to another gathering of wildly excited kid embracing the game. What makes this clinic particularly special is the location.
New Valley is around 1000 kilometres south of the Egyptian capital city of Cairo. It is roughly due west of the Nile city of Luxor. The region sits within the eastern fringes of the Sahara Desert, close to both Sudan and the Libyan border. If I had been asked to find a more remote part of the world, New Valley would go close – as a kid I was enthralled by the magic of the isolated (now dry) Lake Chad in near-neighbouring Chad, south of Libya.