Tuesday, July 16 2019 @ 01:37 pm ACST
Contributed by: Wesley Hull
Views: 821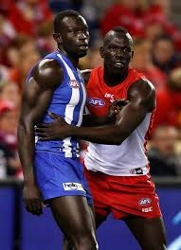 It is wrong to say that the influx of players from African countries is an "experiment" in the same way that the influx of Irish is sometimes referred to as the "Irish Experiment". It certainly isn't. The increase in players of African descent is a result of Australian Rules football embracing the changing nature of our population and more players with diverse ethnic and cultural backgrounds will continue to grow.
That said, it is very interesting to see what is occurring with players in the AFL/VFL environment who come from Sudan, Kenya, Uganda, Ghana and other African nations. For the purpose of this story, players who were born in Australia but parents were born in their African country of origin are included – but not an exhaustive list.
There is s small but growing thread of evidence to say that players from African nations could become the archetypal ruckman of the future. Here is some proof.