Wednesday, August 01 2007 @ 01:37 am ACST
Contributed by: Brett Northey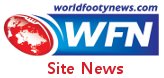 Yes, it's time for WFN to put out another request for assistance. With the steady ebb and flow of work and life commitments of our volunteer reporters we are currently in need of help covering two countries and one continent.

Our writers are all volunteers who have a passion for seeing Aussie Rules grow internationally. At the end of the day we're only a very small piece of the puzzle, but feedback from leagues, clubs and fans is that WFN helps that community achieve its goals, so getting involved this way is a chance to help with the cause even if you aren't based in any of the place we have vacancies for. In fact your location isn't particularly important - being based in the given country or region is helpful but not a realistic requirement for the job. More important are reasonable writing skills, a love of footy and the willingness to get involved.
Our main area in need is Asia, covering such growing areas as Japan, China and many more. Language skills relevant to those countries would be a huge plus but again, not a requirement, and we have plenty of English speaking contacts. We also require people to write on Canada and Ireland.
In all cases we will give you support, provide plenty of contacts, and no particular computer skills are required - we'll show you how to upload your stories through a relatively simply web page. So if you have an interest in supporting international footy and getting a behind-the-scenes view on the game's growth, then consider volunteering to write for WFN. Contact Brett here for more information, or visit our About Us page to see our current structure.