Thursday, April 17 2008 @ 08:00 am ACST
Contributed by: Brett Northey
Views: 2,773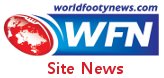 Yes, it's time for WFN to put out another request for assistance. With the steady ebb and flow of work and life commitments of our volunteer reporters we are currently in need of help covering Asia.

Our writers are all volunteers who have a passion for seeing Aussie Rules grow internationally. Our main area in need is Asia, covering such growing areas as Japan, China and many more. Language skills relevant to those countries would be a huge plus but by no means a requirement - we have plenty of English speaking contacts.
Perhaps you're an Aussie that used to play for an Asian club and would like to maintain some involvement, or maybe you speak an Asian language and would like the chance to practice. Or perhaps you're just a fan of spreading our great game and would like to help. Your location isn't particularly important - being based in the region is helpful but not a realistic requirement for the job. More important are reasonable writing skills, a love of footy and the willingness to get involved.