Saturday, June 18 2011 @ 06:33 pm ACST
Contributed by: Brett Northey
Views: 2,693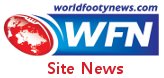 WFN has updated its unofficial World Rankings after the recent international matches in Europe. Favourites Ireland (ranked 4th) comfortably defeated Great Britain (10th) in England, whilst in Paris home side France lost fairly convincingly to Germany (13th). It was the debut for France in full field internationals, remembering it takes 8 matches to be consider fully ranked on our table. The results saw all teams hold steady in their positions.
As far as we know these are the last full field international prior to the 2011 AFL International Cup. Depending on how many matches are played, we hope to see Tonga, Peace Team, China and India play enough games to fully qualify on our rankings. France may qualify depending on how we count lightning carnival matches (if they are played to start IC11).
In the next few weeks we'll open up some discussions on how the various countries might fare at IC11.
Latest matches:
| | |
| --- | --- |
| British Bulldogs&nbsp&nbsp&nbsp | 5.6 (36) |
| Irish Warriors | 11.6 (72) |
| | |
| --- | --- |
| France | 2.7 (19) |
| Germany&nbsp&nbsp&nbsp | 13.5 (83) |
Below are our updated ranks.