Friday, June 15 2018 @ 06:34 am ACST
Contributed by: Wesley Hull
Views: 1,142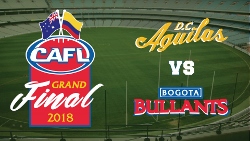 The inaugural season of the CAFL (Colombia Australian Football League) will come to a satisfying close this weekend when the nation's first ever Aussie Rules grand final will be played in the capital city of Bogota. It will bring to an end a season were Aussie expats have blended beautifully with local Colombian talent to see the rise of the game in South America that only a couple of years ago was a dream.
The match will feature the Bogota Bullants up against the DC Aguilas. The Bogota Bombers missed out on reaching the big day, yet remained a highly competitive third team, even downing the Bullants along the way.
AFL Colombia president, Paddy Smallwood, previews the match.
"The grand final should be a solid affair. The D.C Aguilas are coming in favourites off three wins on the trot, and the Bullants' last game being the bloodbath [against the Bombers]. The Aguilas team has been a consistent group all year, which has allowed the drastic improvement of their fleet of Colombian guns."