Wednesday, September 18 2013 @ 05:57 pm ACST
Contributed by: Wesley Hull
Views: 1,263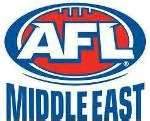 In response to our recent article which explored the changes to AFL Middle East for the upcoming season, new Operations Manager, Tyron (Ty) Farrell has provided World Footy News with his preview of the upcoming season. Not only does Ty look again at changes to the organisation, he also provides his unique insight into the teams and their prospects.
So the 2013/2014 AFL Middle East Season is almost upon us and the teams have been hitting the pre- season trail pretty hard over the summer in anticipation.
This year the season has made a few major changes with Walid Melhem stepping down as Operations Manager as he moved back to Australia with work. Walid worked extremely hard over the last few years and should be proud of the work that he has done in getting the league to where it is today. From all in the region, we wish Walid all the best for his return to Australia and we look forward to continuing to build on the foundations that he left us.