Thursday, September 12 2013 @ 04:44 am ACST
Contributed by: Wesley Hull
Views: 1,080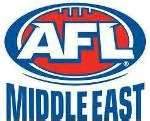 As the footy seasons across Australia, Asia, the Americas and Europe begin to wind down, another competition is just starting to kick into top gear. The AFL Middle East 2013/14 competition is about the get under way next month, and there is something fresh and new about the whole competition.
Maybe it is just the effect of their brand new website at afl-me.com, revamped and looking a treat. Already the teams across the region are locking into a pre-season program of Grand Final breakfast functions (the Australian AFL), or the glamour of Melbourne Cup celebrations. But it is on the playing fields of the United Arab Emirates, Oman and Qatar where the action is starting to happen.
Teams have already been in their pre-season training mode since July. The Dubai Dragons preparing to go for their own three-peat and win a third flag in a row. The Doha Kangaroos are planning and training to go one step better this season and grab a flag. The Dubai Dingoes, winners of last year's pre-season AFL 9's tournament, are wanting to get away to another good start and this time keep it going to the last match of the year. The Abu Dhabi Falcons and Muscat Magpies are also keen to put last season behind them and push for glory in this new season.