Sunday, September 24 2017 @ 03:57 pm ACST
Contributed by: Wesley Hull
Views: 1,365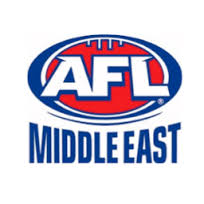 One has to have some respect for those who write the draw for the AFL Middle East competition. Far from being a simple Team A v Team B and repeat competition, the Middle East throws up a unique set of challenges to have teams play matches once, much less for a whole season.
But the fact that they do so every year is evidence of the passion with which the people involved in the AFL Middle East competition operate.
Whilst four of the teams are located within the United Arab Emirates – the Dubai Dragons, Dubai Dingoes and the Multiplex Bulls are each based in Dubai and the Abu Dhabi Falcons are located 140 kilometres to the south-west. If it were just those four clubs thing might be relatively easy – but there is more.