Thursday, November 14 2019 @ 09:00 pm ACDT
Contributed by: WFN Administrator
Views: 338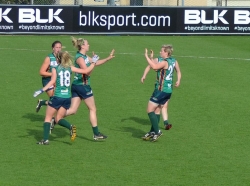 The following opinion piece by Peter Holden of Women's Australian Rules Football Radio should not be taken to represent the views of the site or any of our contributors or editors.
Without knowing the exact dates, we should be just less than nine months away from the 2020 edition of the AFL International Cup.
Most of the focus to date has been on what city/region will host next year's tournament and the potential that the number of countries participating could be capped to assist in fixturing.
However, there's one elephant in the room that has yet to – at least publicly – be addressed; will AFLW players be allowed to participate, and if so, how many?
As of this article being published, there were 18 Irishwomen signed to AFLW contracts for the 2020 season, and one American.