Wednesday, August 09 2017 @ 11:32 AM ACST
Contributed by: Laura Turner
Views: 370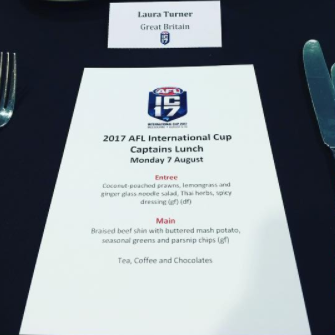 Editor: Laura Turner is Captain of the Great Britain Swans and is also writing for worldfootynews.com

The official International Cup Captain's Lunch took place on Monday. Captains from all teams along with a host of AFL executives were treated to a two course lunch at Etihad Stadium.

AFL CEO GillIon McLachlan thanked all the captains for their investment and role in developing the game overseas. It always seems to be impressive to AFL fanatics that people overseas fall in love with the strange and unique game often with little exposure to it.

Head of Community and International Development Grant Williams gave a speech about the growth of the game overseas and made particular reference to the growth of women's footy at home and overseas welcoming the new women's teams to the International Cup, Great Britain, Pakistan and the efforts of the European Crusaders for bringing together women from across Europe to participate in the tournament.