Friday, July 28 2017 @ 05:00 PM ACST
Contributed by: Joe Woodyard
Views: 2,735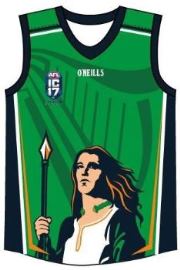 Ireland were runners up in the 2014 International Cup and will be looking to return to Australia and retake the title.
History of Irish footy
The Australian Rules Football League of Ireland (ARFLI) was founded in 2000, but Aussie Rules actually came to Ireland in 1999 when squads in Belfast and Dublin recruited through the off season. The new Dublin Demons traveled to London in April, 2000 to take part in preseason matches with the British Australian Rules Football League (BARFL), and finished third out of 12 teams. The Demons then won a best-of-three series with the Belfast Redbacks to be crowned the first Irish footy premiers.
Michael Currane and Ciaran O hEeadhra both have their fingerprints all over Irish footy, as does Michael's younger brother Brian, who is the Warriors head coach for IC17. Brian (along with Diarmuid Griffin) helped form the Leeside Lions over 15 years ago. Michael founded the European Australian Rules Football Council (EARFC) in early 2001 with the goal of developing the sport of Aussie Rules across the continent and strengthening ties between the already established leagues.