Sunday, November 17 2013 @ 04:34 pm ACDT
Contributed by: Brett Northey
Views: 2,436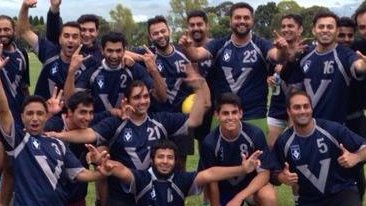 The following article is courtesy of Zain Nabi. It follows the first match by the squad being assembled in Melbourne to represent Pakistan at the 2014 International Cup. This truly is a case of the first tentative steps towards international competition for a new footy nation.
Lo and behold! Perfect kicks, meticulous interceptions, scintillating mark, commendable team work, and, of course, crowd support were the highlights of the game as Shaheens took on their first actual opponents, Just Play – a local football team, and defeated them 44-26 under the overcast conditions at Princes Park Carlton.
It was the first real test of the relentless training sessions that the players had been through during the past couple of months. The Shaheens carried their skills from the training on to the playing field to display what Coach Andrew termed 'an outstanding performance'.
"It is fantastic to see them performing like that," he said during the post-game interview. "Honestly, I had not expected to see such professional approach from the players, but they surprised me."