Saturday, August 13 2011 @ 10:14 pm ACST
Contributed by: Troy Thompson
Views: 5,250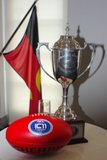 The AFL have this evening confirmed the teams that will compete in the two Men's divisions for the rest of the International Cup.
Division One Teams are: Canada, Denmark, Great Britain, Ireland, Japan, Nauru, New Zealand, Papua New Guinea, South Africa, Sweden, Tonga and the USA

Division Two: China, France, Fiji, India, Peace Team, Timor-Leste

The fixture for the next week in Sydney follows. But we will highlight that the match between the USA and South Africa will be the curtain raiser at ANZ Stadium before the Sydney Swans vs St Kilda match.