Sunday, January 24 2016 @ 08:01 AM ACDT
Contributed by: Troy Thompson
Views: 478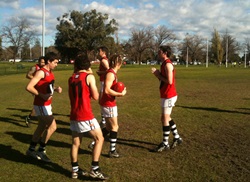 We are reproducing Matt Zurbo's training manual for those that are challenged by small numbers out on the footy track. This series first appeared in The Footy Almanac.
While this can happen anywhere in Australia, it is especially relevant to footy clubs around the world that may be starting up or may have small groups that train together remotely from the rest of the team in a nearby city. Sure everyone can go for a run, or knock off and head to the pub and talk about the training session that might have been.
But Matt will offer action, structure, variety and something for your small training group to achieve. As many clubs around the world are just starting their pre-season we hope this is a useful resource even if it is just for those nights when the numbers are a little low.