Sunday, December 31 2017 @ 05:10 pm ACDT
Contributed by: Wesley Hull
Views: 2,566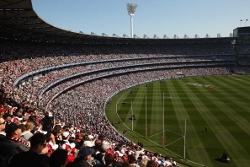 I was listening to the cricket today and one of the guest English commentators enquired as to the process in picking which team to support in the AFL. His question was probably aimed more at Melbourne, the epicentre of the game, but the question itself is valid no matter where you are from.
It isn't an easy answer, either. Firstly, the question has answers that fit for grass roots connections right through to national and international clubs. There are so many ways a person can become attached to a club.
Whether it be geography, traditions, family, success, colours, personal connection, sporting idol or just throwing a dart at a dart board, people always have a story to tell. Most of those conversations will revolve around the VFA/VFL/AFL lineage, and interstate competitions such as the WAFL, SANFL NTFL and more, but the connections to a club are still vast.