Wednesday, September 20 2017 @ 01:10 am ACST
Contributed by: Brett Northey
Views: 2,488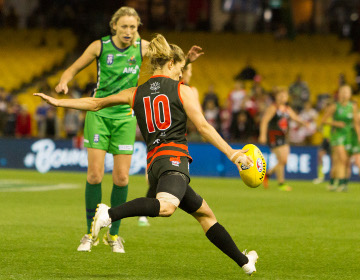 Uncharacteristically for myself I'll get straight to the point.  The AFL has a once in a generation opportunity to significantly boost world footy whilst at the same time add depth and colour to the AFLW, with a not unreasonable chance of even greater benefits down the track in terms of international representation for Australia's female footballers, all for virtually no cost.
The simple change - allow and encourage AFLW sides to add international rookies with no penalty to the number of players already on their lists.
The possible outcome - a pool of internationals ready to: boost the standard and colour of the AFLW, to promote the sport back home, to prove a semi-pro pathway exists, to one day provide opposition that will allow Australian women the chance to pull on an Australian jumper to play a true Aussie Rules international (a potentially alluring but difficult to quantify enhancement to AFLW).
The signs are that this opportunity will not be taken.
Below the case for the small but significant change is argued, including here and in part two we show the support by people from across the football spectrum, from the GWS Giants to a current AFLW player to an international captain and others involved in the game outside Australia.
With all due respect to the powers that be, this is a rallying cry to those that love the game, whether it involve male or female players.