Saturday, July 06 2013 @ 04:17 pm ACST
Contributed by: Wesley Hull
Views: 3,472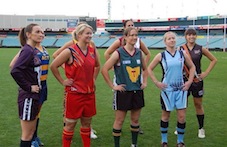 On a beautiful Saturday in Cairns recently, I was told about three women playing for New South Wales at the 2013 Women's National Championships. The three ladies in question had all come a long, long way to be there, having started their Australian Rules football journeys many years before back home in Ireland. I was given the chance to meet them and have a chat as we watched the Division 2 Grand Final.
It was the New South Wales Assistant Coach, David Yole, who introduced me, but not before a couple of words. "They have all played well this carnival," he said. "They are three great young women." Then he proceeded to call them up to meet me. It is difficult to conduct a true interview when sitting in a grandstand, and the crowd periodically screams their approval at a mark, goal, tackle or burst of speed. So, it is true that the questions asked that day did not have complete answers.
We agreed to fill in the gaps via social media when the girls returned to Sydney after the carnival. But the questions can be found below with the individual responses of Una Mckay, Sandra Ryan and Christine McCutcheon, who are not only known here in Australia as members of their Sydney teams and the state squad, but also members of the Irish Banshees international team back in their homeland.
To me, these answers made fascinating reading as they give a great analysis of the thought processes involved, and the opportunities, sacrifices and successes faced along the way for almost any sports player, but particularly women chasing their dreams of playing Australian Rules football.