Saturday, January 12 2019 @ 12:51 pm ACDT
Contributed by: Wesley Hull
Views: 1,135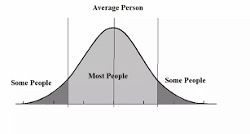 Recently, an interesting football conversation commenced nearby. It involved the concept of whether or not scoring should be removed from games of AFL Masters to reduce the amount of aggressive competiveness amongst players whose glory days are behind them and should possibly just be playing for fun.
Footy is many things to many people. Therefore, there will not be a consensus on whether this (at this stage unofficial) idea has merit. But what is compelling is the link between this potential expectation for our oldest players and the arguments for our youngest players – kids.
For a moment, let's assume that the idea has merit and one day we have AFL Masters playing for no scores – just enjoyment. We have already seen AFL Victoria introduce no scores for junior grades from the 2015 season where grades up to Under 10 would play with no scores and develop "an enjoyment philosophy rather than a winning philosophy'' (Herald Sun, 2014). Since then most states and territories have more or less adopted the same policies.