Friday, May 15 2015 @ 06:44 pm ACST
Contributed by: Wesley Hull
Views: 1,234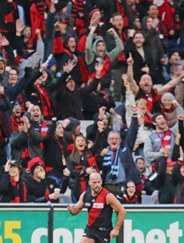 It was two unconnected, though related events on my recent time down in footy's heartland – Victoria – that underlined a very real truth: without the fans we do not have a game.
My mother stated that players change, club administrations change, nowadays jumpers change and even venues change. But the one constant is that there are always supporters. For the most part those supporters have been around for years and years – outlasting the players that fleet across a club's landscape (with the possible exception of Dustin Fletcher who appears intent on playing well into his third decade).
A quick drive into the Sorrento footy ground in my old home town illustrated the point. The juniors were out on the field that I once played on as a teenager, despite the wind chill factor making it about five degrees out there. I had the audacity to see myself out there as I looked, but soon realised that my body cannot do the things it once did.
(Picture: Zimbio)