Wednesday, April 12 2017 @ 09:59 PM ACST
Contributed by: Wesley Hull
Views: 463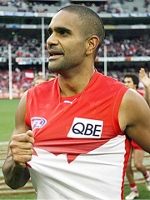 Micky O, as he if commonly referred to, has had an incredible journey in AFL football and is in a unique position to share his vast experience with the next generations of footballers. At the 2017 National AFL Male Kickstart and All Nations Championships Michael did exactly that when asked to motivate the boys with a talk about his background.
The following story is taken from a transcript of his presentation to the players during the championships. Not a pin drop could be heard as Michael entranced his audience.
I'm originally from Adelaide and moved to Sydney as a 17-year old to play footy with the Swans. I'm from a little place called Salisbury in Adelaide where I spent a lot of time at the Central Districts footy club. I guess the journey to get to Sydney has been a pretty tough one.