Wednesday, January 27 2016 @ 09:30 am ACDT
Contributed by: Troy Thompson
Views: 2,429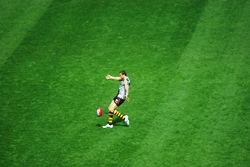 By Matt Zurbo
this originally appeared on
The Footy Almanac
website
here
.
I love Malcolm Blight. He is an absolute hero of mine. Because he's a corker bloke, first and foremost. Because his is smart. Because had what all good coaches need. Imagination.
Imagination!
It's so up there in important coaching skills. Yet no-one pays it heed. Sometimes the people who pick or coach coaches are just as lacking in it. Malcolm once told me, "Don't get me wrong, mostly, I'm very conventional, but you need that 5% out of the box."
So you don't have the numbers? So bloody what? Are you that pathetic as a coach, a leader and a person you just lay down? Are you only good at what you read in an AFL manual? The beauty of our game lies in the oval ball. It is unpredictable. Players often have to invent, so should you. Invent!