Monday, April 04 2016 @ 08:25 pm ACST
Contributed by: Wesley Hull
Views: 2,580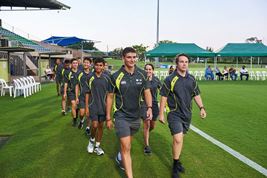 Adam Davis, the AFL National Umpiring Development Manager, proudly watches over his crop of umpires officiating at the National Diversity Championships in Townsville. Not only are these umpires representative of the six national teams competing at the carnival (Western Australia, South Australia, Queensland, Northern Territory, the combined Victoria/Tasmania team and the combined New South Wales/ACT team), they are also from diverse backgrounds themselves.
This diversity echoes the push that Adam and his umpiring team are chasing as their current recruiting program gathers steam.
In the last 12 months there has been a 15% increase in umpire registrations. As the game grows with more women's footy, multicultural carnivals and other growth areas, umpiring numbers have to grow with that rather than fall backwards and further behind what is needed.