Thursday, April 07 2016 @ 09:25 pm ACST
Contributed by: Wesley Hull
Views: 2,473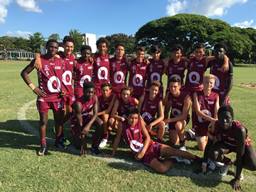 One of the great benefits of being at a footy carnival such as the National Diversity Championships in Townsville is just how close to the action and the people you can get. Routinely chatting to some of the biggest movers and shakers in the AFL – both past and present – adds an at times surreal feel to being in elite company.
From my own point of view, the chance to travel around with the Queensland squad of Kickstart and All Nations players was a lot of fun and also enlightening. From being on the bench with them at close quarters during matches to relaxing at dinner later in the evening, my experience has been memorable.
Match day, and Queensland All Nations coach, Anda Tyalana allows me to sit (quietly) at the back of the coaches box. It is a great experience to listen to the coaches talk on the run about what is unfolding in front of them.
"Be on the defensive side at ball ups and stoppages to stop their run."