Sunday, May 27 2018 @ 07:45 am ACST
Contributed by: Wesley Hull
Views: 589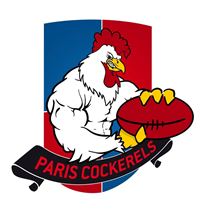 The Paris Cockerels have claimed the CNFA Leo Lagrange premiership for the 2017/18 season with a resounding 106-point victory against the Cergy-Pontoise Coyotes. It is the Cockerels first flag since their 2014/15 season flag. For the Coyotes, it was a day to forget, and hopefully a catalyst for a determined effort next season to lift their first flag.
The game was put away in the opening quarter. The rampant Cockerels knew the value of a fast start and that is exactly how they went about it, peppering the goals for a 67-13 lead at the first break. It was a huge quarter and immediately placed the Coyotes under massive pressure to worry about closing the gap first, much less winning.
The second quarter was tight, and low scoring after the first quarter fireworks. The Coyotes defence held firm and with more accuracy they would have won the quarter. They didn't and the Cockerels took the quarter narrowly to lead 80-24 at the main break.