Monday, July 01 2019 @ 11:22 pm ACST
Contributed by: Wesley Hull
Views: 700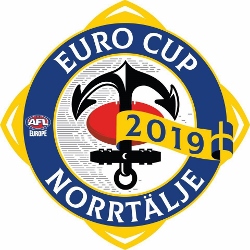 The 2019 Euro Cup, held in Norrtalje, Sweden on the weekend, crowned the England Dragonslayers as the men's champions and once again the Irish Banshees as women's champions. The tournament is the showcase of European Aussie Rules, and the standard of matches across the day upheld that status.
For the Dragonslayers, this was their fifth Euro Cup win after back to back titles in Prague (2008) and Samobor (2009, Croatia), Bordeaux in 2013 and 2017. This was also the fourth title for the Irish Banshees, including a back-to-back performance after winning last year in Cork.
The men's draw saw the traditional powerbrokers – England, Ireland, Croatia and Germany – joined by France, Wales, Scotland, Netherlands and host nation Sweden. But the most compelling aspect of the draw was the growing number of developing nations with Austria, Switzerland, Finland, Russia, Poland, Czech Republic and Israel each sending teams.