Tuesday, August 14 2018 @ 08:15 pm ACST
Contributed by: Wesley Hull
Views: 1,078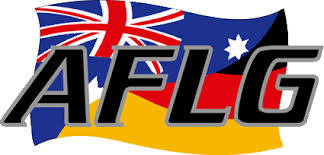 As the home and away season in Germany came to a close on the weekend, the top three teams – Hamburg Dockers, Munich Kangaroos and Berlin Crocodiles – used their respective games to prepare for what lies ahead as well as proving to all and sundry that they have the talent required to go all the way in 2018.
The Dockers and Kangaroos, the two best performed teams across the season, finished with big wins in excess of 100 points. The Berlin Croodiles also won, but were given a torrid time by the Dresden Wolves.
The Hamburg Dockers hosted the Rheinland Lions and turned on a superb defensive performance. Whilst they were able to score at will across the afternoon, their efforts in keeping the fourth-placed Lions to just two behinds for the day should be a warning to all other finalists – to beat us you will have to outscore us, and good luck with that. The Dockers took command early and kept their foot on the Lion throats for a 113-point win.