Wednesday, May 10 2017 @ 06:27 AM ACST
Contributed by: Wesley Hull
Views: 451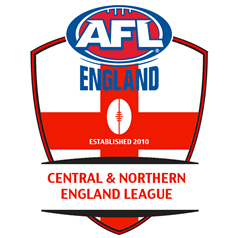 Round Two of the AFLCNE competition in England was completed last weekend. The following article from the AFLCNE website gives the rundown of the round.
With round 2 drawing to a close, there have been some shifts in the AFLCNE ladder this week. The Mozzies have taken the top spot from Wolves, who sit this week out, with a big win over the Saints, with the Scorps also seeing Wolves' bye week lifting them into 2nd. Meanwhile, at the other end of the table, Sheffield switched with Tyne Tees to go into 5th and the Saints are 7th.
The first game of the round saw the Mozzies take on Merseyside Saints, who were kicking off their second season. This produced a thumping 243-7 win for Manchester Mosquitoes, giving them an enviable percentage of 2400. However, as always, the scoreline isn't a fair reflection of the game, and with it being an improvement on the 273-7 score for the corresponding game last year, the Saints will be hoping that their development will bear fruit later in the season.