Monday, June 11 2018 @ 05:54 am ACST
Contributed by: Wesley Hull
Views: 1,428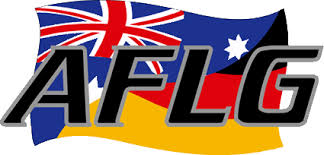 Billed as the match of the season to date prior to the ball being bounced, the clash between the Hamburg Dockers and the Berlin Crocs promised plenty. The clash between the reigning premiers and the undefeated Dockers delivered in spades with the Crocs holding on for a one-point victory.
It was a win against the odds in many ways for the Crocs. Travelling to Hamburg to meet the Dockers on their home soil would have been tough enough, but the fact that the Dockers sat undefeated gave them an air of not invincibility, but certainly strength.
The Crocs started well, however, and jumped early to a 33 to 16 quarter time lead. The Dockers came back at them in the second quarter to reduce the margin to just nine points by the main break, the Crocs still leading 46 to 37. The question would be whether the Crocs could capitalise on their narrow first half lead.