Thursday, March 21 2019 @ 06:28 pm ACDT
Contributed by: Wesley Hull
Views: 812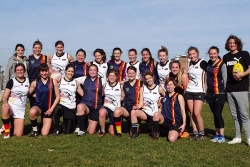 The following extract is from an excellent story by Ellie Honeybone at ABC Great Southern looking in depth at the popularity of Australian Rules football in Europe, driven heavily by the uptake of the game by women across Europe.
A growing number of women and men are signing up to play Australian Rules in Europe and there are hopes a women-only league will be established in Switzerland in the next few years.
Katherine Dellar spent her childhood playing AusKick with the boys, and played Australian Rules for the Australian National University in Canberra.
When the 30-year-old moved to Switzerland 18 months ago she had no idea the sport would once again become part of her life.
"Geneva has a large expat population, a lot of those are Australians, and I heard via word-of-mouth about people who were trying to get an AFL team together," Ms Dellar said.