Wednesday, February 22 2017 @ 08:04 am ACDT
Contributed by: Troy Thompson
Views: 527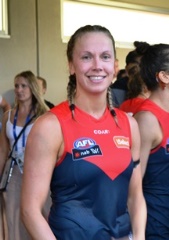 Irish defender for the Melbourne Demons Laura Duryea was charged by the match review panel with engaging in rough conduct against Ellie Blackburn of the Western Bulldogs, during the fourth quarter of the match at the VU Whitten Oval on Saturday.
Fortunately Laura was able to accept a reprimand with an early guilty plea. After speaking to the umpire who made a report on match-day, and based on the available video evidence and a medical report from the Western Bulldogs Football Club, the incident was assessed as careless conduct with low impact to the head.
The incident was classified as a one-week sanction. As Laura had no applicable record which impacts the penalty (fortunately being sent off in the IC14 grand final does not count against her). Laura's early plea enabled her to accept a reprimand.