Friday, June 23 2017 @ 06:28 AM ACST
Contributed by: Wesley Hull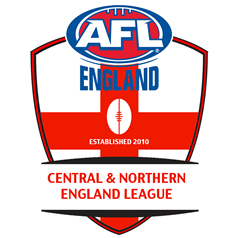 The Australian Football League Central & Northern England has reached half-way through the 2017 season. The following story is from the AFLCNE website and looks at the journey so far this season with hints towards what the season may yet bring.
With the last update being a month ago (blame it on the weather/footy/beers) we at the league thought it was an opportunity to give you all an update on the past few weeks (and a lot has happened).
The final round of May saw the Rams consolidate their position just inside the playoffs by defeating a travelling Tigers side, while the Mozzies narrowly overcame one of this season's finals contenders the Wolverines in a show of intent to put themselves comfortably in prime position. Meanwhile, the Thunder secured their first points by default, after mechanical issues meant half the travelling Merseyside team were stuck near Manchester (credit goes to those who made it playing in an excellent scratch match with Sheffield and Nottingham players).