Sunday, March 18 2018 @ 09:34 am ACDT
Contributed by: Wesley Hull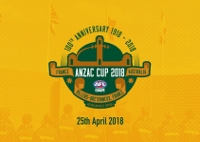 With the ANZAC Cup 2018 to be played on ANZAC Day, 25th April, AFL Europe has released an excellent article that gives that background to this solemn yet celebratory event, played each year in honour of those who fought to save Villers-Bretonneaux. To read the full article, follow the link at the end of this story. 
To commemorate the 100th anniversary of the Second Battle of Villers-Bretonneux, the men's and women's Australian Spirit sides will go head-to-head with the French national teams to contest the 10th annual ANZAC Cup, honouring those who fought to reclaim the town on the night of April 24th, 1918. 
Villers-Bretonneux had been a key post for the Allies prior to the Germans successfully breaking through defensive lines and taking the town on the 24th as part of their Spring Offensive. This was a considerable victory given the towns vantage point over the city of Amiens which was of significant tactical importance to both sides.